Informations
-This Cover Art package has been created for the Bittboy and the pocket go retro handheld.
-It include the Covers for the GB, GBC and GBA.
-The Covers are the original ones and have been resized to fit the screen of this device.
-They have 135px width and proportioned height.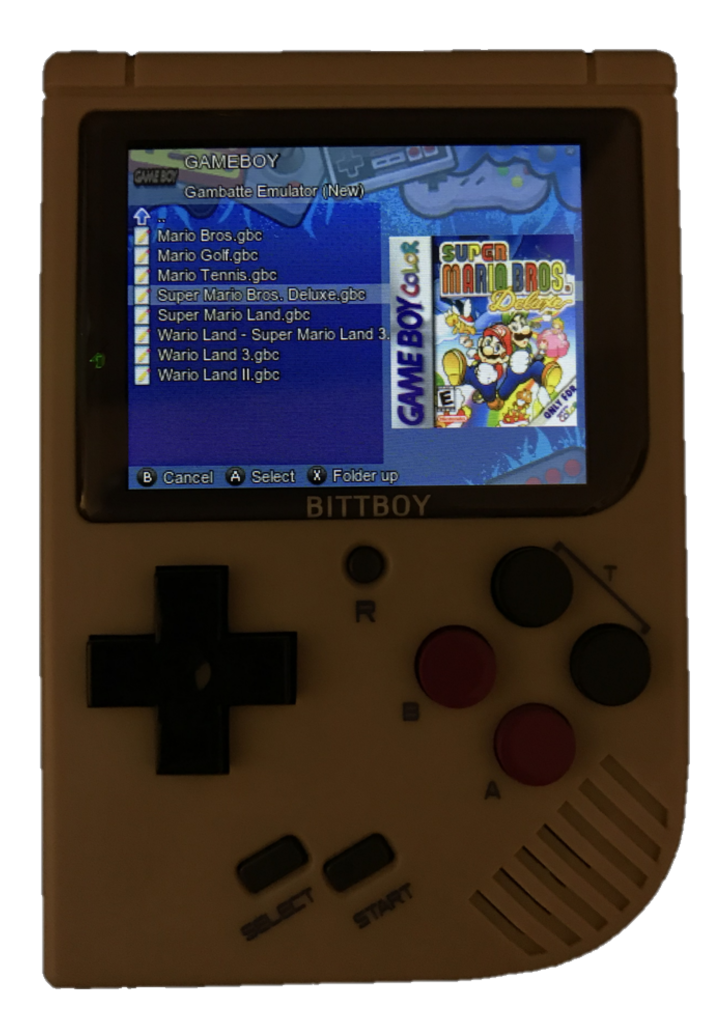 How to install this pack :
Copy the "CoverArt" folder to the root of the main partition of the SD Card.

Boot your bittboy and press select on the emulator you want to add Covers to.

Choose the edit option.

Select the Box Art option and go to /mnt/CoverArt/*GB GBC GBA*. Choose the right folder according to the emulator you need.

Press start to apply your new configuration.

Now when you open your emulator you should see the Cover Art on the right side of the screen.
How to clean your rom names:
If you download a rom pack on the web chances are that the names of the roms will be full of parentheses and square brackets. You need to clean your Rom files names as they need to be identical as the covers files names. Here is a batch script that can do this.
Batch :
Run this script with the -n option and it will show you the result of the name modification.
rename -n 's/\(.*\)|\[.*\]| //g' *
2) If you are satisfied with the result remove the -n to actually do the renaming.
rename 's/\(.*\)|\[.*\]| //g' *
Alternatively you can use Advanced renamer for windows to clean your rom filenames : https://www.advancedrenamer.com/
Q&A:
Q: Why some of my games doesn't have Covers?
A: The name of the game rom need to be identical as the name of the cover image. Chances are that there is a cover matching your game inside the CoverArt directory. Find it and rename it exactly like your rom. Be careful to keep the .png extension.ie : For the game « MarioUSA.gb » you will need to rename « Mario.png » to « MarioUSA.png » inside the CoverArt directory.
Download Link : CoverArt_GB-GBC-GBA_Bittboy_Pack_v1.zip
More Info:
The full sized original covers are from libretro and can be found here : http://thumbnailpacks.libretro.com.
Credit to u/inflam52 for the tutorial that inspired me.